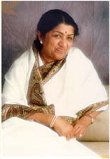 Bharat Ratna Latabai Mangeshkar
, who, as a playback singer, enjoys today, a clout, which even the movie moguls of the country's film industry cannot dream of.Lata Mangeshkar's songs have captured the hearts and imagination of millions of her admirers around the world. They have become an inseparable part of the daily lives of Indians - wherever they may be. Words fail to express the depth and scope of Lata Mangeshkar's genius. Lata Mangeshkar has come to symbolise India in a way that no one else has, or ever will for years to come. She has charmed her fans with thousands of songs she has sung as a playback singer in films, her name was in the
Guinness Book of World Records
for singing the maximum number of songs way back in 1974 sung in over 20 different languages. Perhaps only mother's voice sounds more magical than Lata's. The name of Lata Mangeshkar (b.1929) is a byword in Indian semi-classical music. A soprano with over three octave range, she has an indescribable, unsoiled purity in her voice. It is delicate, sharp and clear in difficult note patterns. Her rendition is marked with a rare sense of rhythm and lyrics.

It was after India's losses in the India-China war in 1962 that a young Lata had sung the song, "Aye Mere Watan Ke Logon, Zara Aankh Me Bhar Lo Pani". The song, written by Kavi Pradeep, moved the then Indian Prime Minister, Jawaharlal Nehru, to tears and he confessed "Beti toone mujhe rula diya."It is at this time when the Pakistani Prime Minister said that he would gladly exchange Lata for Kashmir" such is the aura of Lata Mangeshkar.

Lata's reign over the world of playback singing for female characters has been undisputed over the decades and she has lent her voice to heroines from Meena Kumari to Sreedevi to Urmila. She has surprised even her fans with the range of her singing in the film DIL SE with the song "Jiya Jale" on her turning 70, which was a huge hit and was recorded in just 40 minutes.
Lata is a legend in her lifetime and undeniably the best singer India has ever produced. As renowned Classical singer Ustad Bade Ghulam Ali Khan said for lata "Kambakht Galti Se Bhi Kabhi Besura Nahi Gati". Her contribution to making music popular throughout India and the world is incalculable and she has reigned supreme all through the last six decades.
Did You Know??                                                                       Her family, life and achievements
Lata's Actresses Page                                                          Lata's Solo Collection & Lyrics
What Other's Have to Say !!                                                     Lata's Duet Collection & Lyrics
Lata's favourite tracks                                                                                   Articles On Lata

View Gaurav's Guestbook

Sign Gaurav's Guestbook
Click Here For The Lata Mangeshkar Fan Club