| Home | Life & Family | Awards | Did You Know | Others Have To Say | Lata's Fav Songs | Lata Hospital | Articles | Actresses |
| Lata Club | Lata Perfume | World's Largest Portrait | Solo List | Duet List | SS & Books | Amul Topicals |
World's Biggest Typewritten Portrait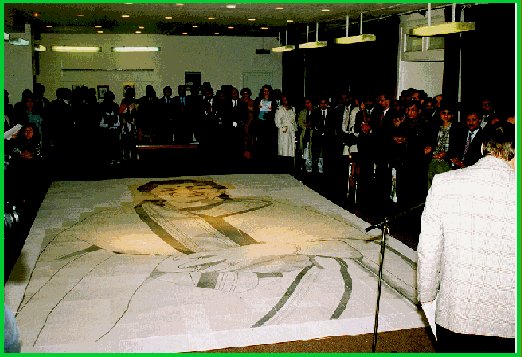 A World Record
Lata Mangeshkar has a global fan following, being a perfectionist Lataji has inspired many of her fans to strive for excellence. Inspired by Lataji Mr.Uday Mahadeo Talwalkar made the World's Biggest Typewritten Portrait (21.4 ft x 13.3 ft) of Lata Mangeshkar. Mr. Talwalkar used 364 A-4 size sheets of paper which took approximately 236 hours spread over the last 5 years. Space was left on the right & bottom sides of the paper to easily paste sides of the papers one upon the other. Mr. Talwalkar feels he selected the most appropriate celebrity, Lata Mangeshkar, since she is a great artist and has been singing for the more than last 50 years and her contribution to the Indian culture is incomparable.



The Making




A Close Up




The Newsmakers
Typewritten Art is an art of making paintings by the use of a standard mechanical typewriter. Various alphabetical and numerical keys are used to bring out the desired contours, shapes and shades. Multiple colour ribbons are also used sometimes to form the desired colour impressions.
To find out more about this wonderful Artform log on to Mr. Talwalkar's Homepage, here you can learn more about Typewritten Art, World Record holder Mr. Talwalkar & his World Record, view Typewritten Portraits of other Great Personalities such as Asha Bhosle, Amitabh Bachchan, Indira Gandhi among others in his Art Gallery.
View Gaurav's Guestbook

Sign Gaurav's Guestbook
Click Here For The Lata Mangeshkar Fan Club

This site has been designed by Gaurav Kumar
Site best viewed in 800x600, Internet Explorer